FAQs
I have a problem with my roof! This must be the starting sentence with 95% of calls to HOWELL ROOFING INC. Hopefully the answers to these frequently asked questions may help before you give us a call.
Problems with my roof
At HOWELL ROOFING INC. we get asked these questions on a daily basis. We hope that these FAQs may help, but we're always here to help.
As a homeowner, we know the importance of your property. A good roof is like having good tires on your vehicle. Without them, the tires won't grip the road. Therefore without a great roof, everything else can be ruined with just a simple rain storm.
In need of advice
We definitely understand that a roof is expensive, that's why you want to get it right, first time, every time, so talk to us, we're happy to advise.
SCHEDULE A ROOFING ESTIMATE
RELIABLE, EXPERIENCED
& PROFESSIONAL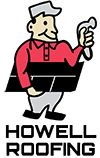 It's important to do your research when replacing your roof as it's a big decision and a large outlay.
HOWELL ROOFING INC., will serve all your needs. Based in Waycross, Georgia we'll schedule a one-on-one consultation to discuss your goals, concerns, and requirements. We have been in the business since 1952, so we will have roofing options to fit every budget.
Repair or Replace
HOWELL ROOFING INC., want your roofing business, however, we'll never bump up the job so we'll make more money out of you.
Here at HOWELL ROOFING INC., we can install almost any new roof you want, we have an experienced crew for residential roofing installation in the Ware County area, GA., and within about a 200-mile radius.
You can rest assured that our roofing crews are handpicked for their experience and skills, and all are dedicated to customer satisfaction. Without a doubt, you can trust HOWELL ROOFING INC., for their workmanship will be impeccable for residential shingle roofing repairs and replacements. Last but not least, we'll always use first-rate materials from leading manufacturers, treating your roof as if it were our own.
How do I know if I need a replacement roof
There are several reasons why you may need a roof repair or possibly a roof replacement. The first signs are obviously watermarks on the ceiling caused by water leaking from the roof. You may have a damaged or missing shingle however you might not see any of these signs. If you know you have an older roof, we recommend you hire a professional to inspect your roof to make sure there is no damage that you can't see. However, if you can see the damage, we will happily check the roof and see if the roof is too far gone and be more cost-effective to replace rather than repair.
Repair or a replacement roof
Repairing a roof may be cheaper initially, but it can be very costly in the long run if leaks continue to pop up due to the roof age for example. It's important to talk with us so we can help create a plan that is suitable for your home and doesn't waste your money.
If I have a new roof, will I need new gutters
A roof replacement doesn't mean that you have to purchase new gutters too. If they are in good shape then you should be fine without replacing them.
What are shingles
Shingles used to be asphalt, however, these days they're composed of durable material that allows them to have a lifespan of about 25-50 years. They can have a base layer of either fiberglass or felt paper. This is then topped with a waterproof layer and ceramic granules as the final layer.
Are all shingles the same
The two major shingle categories are three-tab shingles and architectural shingles. Both types are very popular and offer a variety of colors. From a design standpoint, the three-tab shingle is a bit plainer whilst the architectural offers enhanced curb appeal for the homeowners.
Can hail damage my roof
Firstly, after a severe storm with hail, check your roof and document any damage. As you inspect your roof, these are some of the things to look for that will indicate obvious hail damage:
1. Hail hits will often appear black. It knocks away granules on the shingles, therefore leaving the felt below exposed to more damage.
2. You may also see areas of shingle that appear shiny.
3. If you can taking every precaution, feel around on the shingle for soft spots. They'll feel like bruises on an apple and usually indicate hail has damaged the roof.
How do I get roof leaks
The most common culprit for a roof leak is flashing issues and or valleys on the roof. These are typically the easiest places for water to egress your roof and create issues inside the home often over time. Roof repairs are often focused on replacing old or improperly installed sections of flashing, or installing additional roof protection in the valleys.
If the roof as a whole is still in good shape these repairs are easily carried out.
What types of roof do you work on
HOWELL ROOFING INC., work on every type of roof you can find on a residential property. With over 70 years of experience in both roof installation and repairs, there isn't much we haven't seen before. Therefore you can trust our company to either install it right the first time or stop the leak from happening again.
What metal roofing can you supply and fit
When it comes to metal roofing, we only supply and fit standing seam metal roofing. This is a higher-end of metal roofing for residential applications, involving a snap lock. Like most standing seam roofs, the snap-together fasteners of snap-lock roofing are hidden under the seams, which helps prevent damage from wear and tear.
Because of its design, you'll see fewer problems with rusting and leaks or with panels coming loose. This will in turn save you money on any future roof repair if it were to arise.
Why use HOWELL ROOFING INC.
Some homeowners hesitate to call in a professional for roofing repairs, worried that they won't be able to afford it. They wait until the roof gets worse, which only leads to greater expenses. HOWELL ROOFING INC., works from a standardized price list, so you won't find us upselling you or trying to haggle with you over every nail or shingle. Additionally, you can count on our team to use top-quality materials from leading manufacturers. Furthermore, it means more savings for you, as these products carry the best long-term warranties around.
If your shingle roof has a few cracked shingles on it, we can get those repaired quickly and effectively. Similarly, a leaking standing seam metal roof can be promptly patched by our skilled and experienced roofers. Talk to us today and let us save you money in the long term.
Importantly, here's what our customers have to say


I really couldn't be happier with my new roof. Howell Roofing took the time to explain why they were doing what they did and were there when they said they would be.


They put pride in their work. Fastest and best quality work.


I'd highly recommend Howell Roofing for many reasons: family-owned and operated, third-generation family business; which gives you confidence that they know what they're doing and will stand behind their warranties.


Great company to do business with.

These men do really good work, they're fast, but not sloppy. Plus they're true to their word.
Rare these days.


Howell Roofing are honest and professional and stands behind its products and workmanship