STANDING SEAM ROOFS
HOWELL ROOFING INC., specializes in fitting standing seam metal roofing. Plus when it comes to standing seam metal roofing colors, there is always a color option that will suit your property requirements.
Commercial
Standing Seam Roofing
All metal roofing systems are durable, however, commercial standing seam is more often used over other types like corrugated metal because of the way the panels are interlocked together. In addition, you'll save on maintenance and possible repair over the years, which if ever required, HOWELL ROOFING INC., can also carry out. The one thing to remember is that although this roof is often used on commercial properties, we have installed it on residential homes as well.
In need of advice
We definitely understand that a roof is expensive, that's why you want to get it right, first time, every time, so talk to us, we're happy to advise.
SCHEDULE A ROOFING ESTIMATE
RELIABLE, EXPERIENCED
& PROFESSIONAL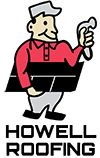 It's important to do your research when replacing your roof as it's a big decision and a large outlay.
HOWELL ROOFING INC., will serve all your needs. Based in Waycross, Georgia we'll schedule a one-on-one consultation to discuss your goals, concerns, and requirements. We have been in the business since 1952, so we will have roofing options to fit every budget.
Standing Seam Metal Roofing Colors
Undoubtedly metal is a very durable roofing material, however, for your roof to give you a 50-70 years life expectancy there are some important elements to consider. Firstly, and probably most importantly, you do need to purchase a good quality product in the first place. Clearly cost is always a significant consideration but never go for the cheapest. Definitely compare and check the metal thickness and secondly, paint coating.
PLEASE NOTE
DUE TO COLOR VARIATIONS IN MONITORS THE COLORS SHOWN ABOVE ARE AS A GUIDE ONLY, PLEASE VISIT OUR FACILITY TO SEE A SAMPLE IF YOU'RE IN ANY DOUBT, THANK YOU.
GALVALUME®
This is a coated metal product used for commercial, agricultural, and residential applications to emulate galvanized steel.
Galvalume® metal has a matte finish that lends itself to industrial, modern, and rustic projects. The roofing metal is similar to Galvanized steel but uses a coating combination of aluminum and zinc rather than just zinc.
Galvalume® is a high-performing metal option for high-temperature, high-precipitation, and marine environments, so it's well-suited for us here in Georgia and Florida. 
Importantly, here's what our customers have to say


I really couldn't be happier with my new roof. Howell Roofing took the time to explain why they were doing what they did and were there when they said they would be.


They put pride in their work. Fastest and best quality work.


I'd highly recommend Howell Roofing for many reasons: family-owned and operated, third-generation family business; which gives you confidence that they know what they're doing and will stand behind their warranties.


Great company to do business with.

These men do really good work, they're fast, but not sloppy. Plus they're true to their word.
Rare these days.


Howell Roofing are honest and professional and stands behind its products and workmanship