REPAIRS
Ever noticed with residential shingle roofing, that they're cracked or curling?
These are signs that your roof could be aging and ready to be replaced.
Residential Shingle Roofing Repair & Replacement
From minor repairs to full residential shingle roofing replacement, when you want a residential roofing contractor to help with your roof, you can always count on the trusted professionals at HOWELL ROOFING INC. Importantly, we offer a complete range of residential roofing solutions including asphalt shingle roof repair and replacement in Waycross, Ware County, GA. Schedule us for an estimate by calling today.
In need of advice
We definitely understand that a roof is expensive, that's why you want to get it right, first time, every time, so talk to us, we're happy to advise.
SCHEDULE A ROOFING ESTIMATE
RELIABLE, EXPERIENCED
& PROFESSIONAL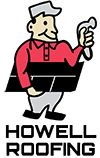 It's important to do your research when replacing your roof as it's a big decision and a large outlay.
HOWELL ROOFING INC., will serve all your needs. Based in Waycross, Georgia we'll schedule a one-on-one consultation to discuss your goals, concerns, and requirements. We have been in the business since 1952, so we will have roofing options to fit every budget.

Types of roofing
In Southeast Georgia, there are predominately two different roofing materials used, asphalt shingles and metal roofing. The good news is that as we have been in the roofing business since 1952, we have installed and replaced both, many times.
Asphalt shingles are either known as 3-tab or architectural shingles (which is a composite shingles). Roofs showing some wear and tear and have been there for years need to be replaced. Living here we all know, without a doubt, when it rains, it often rains hard, so a storm passing through and coming into contact with some old shingles or even missing sections of the roof, could cause a costly water leak and extensive damage.
Don't put off residential shingle roofing repairs
HOWELL ROOFING INC., has an experienced crew for residential shingle roofing repair in the Ware County area, GA. You should never neglect to get your shingles repaired. No matter how insignificant it may seem, any damage to your shingles can create significant problems. Subsequently down the line, it could end up costing you two or three times the cost of the initial minor repair.
Just a single shingle torn off by a high wind can lead to problems like leaks, which definitely makes matters worse for you. It could even lead you to replace your roof well before it is time.
Generally, the normal asphalt shingle roof life expectancy is on average 20-25 years. This will mean that you'll need to replace your roof anyway, but when you do, you can always expect exceptional service from HOWELL ROOFING INC., when it comes to asphalt shingle replacement in Waycross, GA.
You can rest assured that our roofing crews are handpicked for their experience and skills, and all are dedicated to customer satisfaction. Without a doubt, you can trust HOWELL ROOFING INC., for their workmanship will be impeccable for residential shingle roofing repairs and replacements. Last but not least, we'll always use first-rate materials from leading manufacturers, treating your roof as if it were our own.
Importantly, here's what our customers have to say


I really couldn't be happier with my new roof. Howell Roofing took the time to explain why they were doing what they did and were there when they said they would be.


They put pride in their work. Fastest and best quality work.


I'd highly recommend Howell Roofing for many reasons: family-owned and operated, third-generation family business; which gives you confidence that they know what they're doing and will stand behind their warranties.


Great company to do business with.

These men do really good work, they're fast, but not sloppy. Plus they're true to their word.
Rare these days.


Howell Roofing are honest and professional and stands behind its products and workmanship