Timberline Shingles
HOWELL ROOFING INC., specializes in fitting shingle roofing. Plus when it comes to shingle roofing colors, there is always a color option that will suit your property requirements.
Timberline® UHD Shingles
Timberline® UHD (ultra-high-dimensional) Shingles are one of the shingles we recommend if you're looking for that ultra-dimensional wood-shake look.
Timberline® UHD Shingles will cost you a little bit more than standard architectural shingles. However, you'll enjoy a thicker, ultra-dimensional wood-shake look for your roof, and it can increase your home's resale value, as well. Talk with HOWELL ROOFING INC., today and we'll be happy to offer you a free quote.
In need of advice
We definitely understand that a roof is expensive, that's why you want to get it right, first time, every time, so talk to us, we're happy to advise.
SCHEDULE A ROOFING ESTIMATE
RELIABLE, EXPERIENCED
& PROFESSIONAL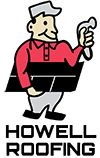 It's important to do your research when replacing your roof as it's a big decision and a large outlay.
HOWELL ROOFING INC., will serve all your needs. Based in Waycross, Georgia we'll schedule a one-on-one consultation to discuss your goals, concerns, and requirements. We have been in the business since 1952, so we will have roofing options to fit every budget.
Timberline® UHD Shingle Colors
Ultra-Dimensional Look: Up to 53% thicker than standard architectural shingles, Timberline® UHD Shingles feature GAF proprietary color blends and enhanced shadow effect for an ultra-dimensional wood-shake look on your roof.
Trusted: Timberline® UHDShingles have earned the Good Housekeeping Seal.
Highest Roofing Fire Rating: UL Class A, Listed to ANSI/UL 790.
High Performance: Designed with Advanced Protection® Shingle Technology, which reduces the use of natural resources while providing excellent protection for your home.
Stays In Place: Dura Grip™ Adhesive seals each shingle tightly and reduces the risk of shingle blow-off. Shingles are warranted to withstand winds up to 130 mph (209 km/h).
Peace of Mind: Lifetime ltd. transferable warranty with Smart Choice® Protection (non-prorated material and installation labor coverage) for the first ten years.
Perfect Finishing Touch: Use Timbertex® Premium Ridge Cap Shingles or Ridglass® Premium Ridge Cap Shingles.
25-year StainGuard Plus™ Algae Protection Limited Warranty against blue-green algae discoloration. Proprietary GAF Time-Release Algae-Fighting Technology helps protect your shingles from unsightly stains.
PLEASE NOTE
DUE TO COLOR VARIATIONS IN MONITORS THE COLORS SHOWN ABOVE ARE AS A GUIDE ONLY, PLEASE VISIT OUR FACILITY TO SEE A SAMPLE IF YOU'RE IN ANY DOUBT, THANK YOU.
Importantly, here's what our customers have to say


I really couldn't be happier with my new roof. Howell Roofing took the time to explain why they were doing what they did and were there when they said they would be.


They put pride in their work. Fastest and best quality work.


I'd highly recommend Howell Roofing for many reasons: family-owned and operated, third-generation family business; which gives you confidence that they know what they're doing and will stand behind their warranties.


Great company to do business with.

These men do really good work, they're fast, but not sloppy. Plus they're true to their word.
Rare these days.


Howell Roofing are honest and professional and stands behind its products and workmanship