ROOF REPLACEMENT
Residential new roofing replacement is one of the more daunting home improvements you'll have to make as a homeowner. There're so many different roofing materials to choose from, in addition to what color.
Residential New Roofing
Are you looking to replace your whole roof? We know that a roof replacement is one of the more daunting home improvements you'll have to make as a homeowner. Should I have shingles or metal? What about the color? How do I choose the right roofing contractor? At HOWELL ROOFING INC. we get asked these questions on a daily basis.
Residential new roofing in our area is typically needed because of an old or leaking roof, so it's a perfect time to make an impact on the curb appeal of your home.
In need of advice
We definitely understand that a roof is expensive, that's why you want to get it right, first time, every time, so talk to us, we're happy to advise.
SCHEDULE A ROOFING ESTIMATE
RELIABLE, EXPERIENCED
& PROFESSIONAL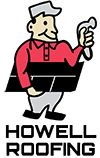 It's important to do your research when replacing your roof as it's a big decision and a large outlay.
HOWELL ROOFING INC., will serve all your needs. Based in Waycross, Georgia we'll schedule a one-on-one consultation to discuss your goals, concerns, and requirements. We have been in the business since 1952, so we will have roofing options to fit every budget.
Needing a completely new roof
In Southeast Georgia, our residential roofing gets more than the average punishment. Although we're not affected by prolonged freezes, we get more than our fair share of excessive heat and torrential rain. This is why we have to look after our roofs. If you get a small leak we can often carry out a small repair, problem solved. However, it's knowing the right time to cut your costs with a patch here and a patch there and install a completely new roof that will in fact save you money in the long term. HOWELL ROOFING INC., can assess your roof and give you our opinion and possible options available to you.
Here at HOWELL ROOFING INC., we can install almost any new roof you want, we have an experienced crew for residential roofing installation in the Ware County area, GA., and within about a 200-mile radius.
You can rest assured that our roofing crews are handpicked for their experience and skills, and all are dedicated to customer satisfaction. Without a doubt, you can trust HOWELL ROOFING INC., for their workmanship will be impeccable for residential shingle roofing repairs and replacements. Last but not least, we'll always use first-rate materials from leading manufacturers, treating your roof as if it were our own.
RESIDENTIAL NEW ROOFING DOESN'T HAVE TO be A REPLACEMENT
HOWELL ROOFING INC., doesn't only carry out repairs or replacement roofing. Obviously, we can install roofing for new construction as well.
So whatever your requirements get the job done right, the first time and use HOWELL ROOFING INC., for your next roofing project.
Importantly, here's what our customers have to say


I really couldn't be happier with my new roof. Howell Roofing took the time to explain why they were doing what they did and were there when they said they would be.


They put pride in their work. Fastest and best quality work.


I'd highly recommend Howell Roofing for many reasons: family-owned and operated, third-generation family business; which gives you confidence that they know what they're doing and will stand behind their warranties.


Great company to do business with.

These men do really good work, they're fast, but not sloppy. Plus they're true to their word.
Rare these days.


Howell Roofing are honest and professional and stands behind its products and workmanship